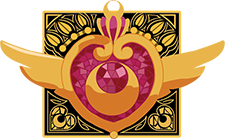 TYPOGRAPHY STUDY :: I WON'T GIVE UP
Several colleagues embarked on a weekly drawing challenge; no rules, just create something based on the prompt word of the week. It was a personal challenge to create a typographic poster, somehow related to the weekly prompt word, 'hero'.
The resulting poster took and translated a quote from episode 200 of  90's Japanese anime, Bishojo Senshi Sailor Moon ("It's possible that everyone is really gone when I give up. So, I won't give up. I'll never give up."). Fonts and imagery were informed by the animated series, as well as artbooks, laserdisc covers, and other artwork. Initial sketches were done by hand and then transcribed onto an iPad Pro, to then be finished by hand in Adobe Illustrator.
_______
Year: 2017
Client: 'S.M.S' Drawing Challenge
Brief: Create a response to the word of the week ('hero').
Tools: Illustrator, Autodesk Sketchbook, iPad.